The Four Tops
performing live
The next all-black male vocal group to top the charts was The Four Tops who knocked The Supremes off the top position with their thunderous performance of the single "I Can't Help Myself (Sugar Pie, Honey Bunch)." The track exploded with a bang when it was released by Motown Records. It peaked at number one on the Billboard Hot 100 Singles Chart week-ending 19th June 1965 (2 weeks). It is one of those songs that define "The Sound Of Young America," all within two minutes and 43 seconds! Before the group had their first number one, Holland-Dozier-Holland had produced a song entitled "Baby I Need Your Loving" which was The Four Top's first Top Twenty single which peaked at number eleven on the Billboard Hot 100 Singles Chart. It has become another classic.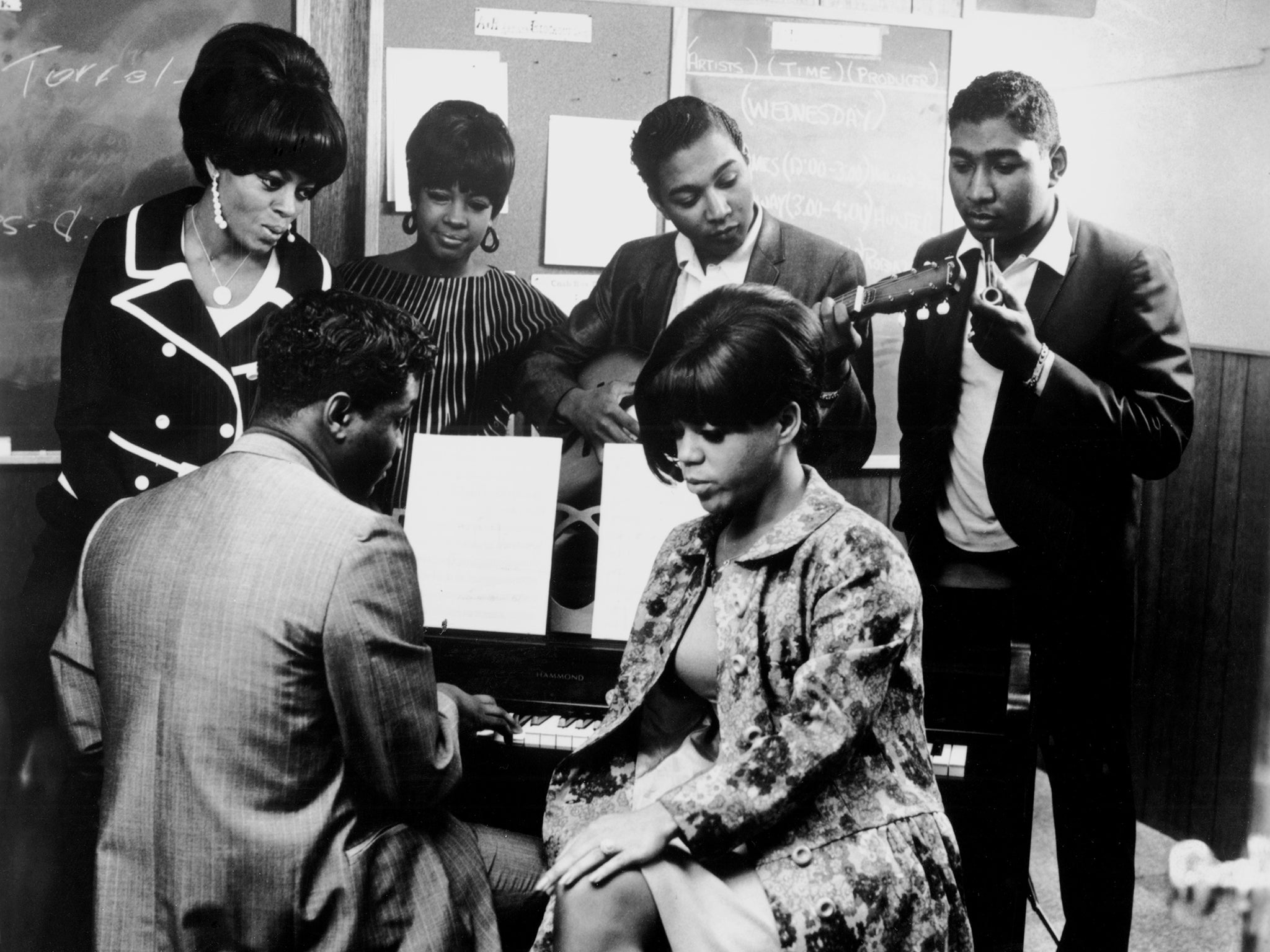 Holland-Dozier and Holland in
the studio with The Supremes
The Supremes

Holland-Dozier-Holland were certainly on a roll when they surprised everyone with a sixth consecutive number one for The Supremes with "I Hear a Symphony." The song displaced The Rolling Stones single "Get Off Of My Cloud" week-ending 20th November 1965 (2 weeks). That very same week Chess Records' "Soul Queen" Fontella Bass was at number four with "Rescue Me." Another song was released from the album "I Hear a Symphony" entitled "My World Is Empty Without You." It was the first single by The Supremes not to peak at number one on any singles chart listings in America. The recording style of the single was completely different from its predecessor with musical instrumentation sounding extremely gothic from a bygone era sometime in the 1500s in Europe. Earl Van Dyke's Hammond organ sound configuration was made to sound like a liturgical pipe organ and reflected the trend towards baroque pop music during the mid-1960s. The song peaked at number five on the Billboard Hot 100 Singles Chart for two weeks in February 1965 and reached number ten on the Billboard Hot Rhythm and Blues Singles Chart.




©Signaturesoundsonline2013-2016